The Mahatma Gandhi National Rural Employment Guarantee Act (MGNREGA), 2005, was notified on 7 September 2005.
The mandate of the Act is to provide 100 days of guaranteed wage employment in a financial year to every rural household whose adult members volunteer to do unskilled manual work.
MGNREGA has been a core programme of Pragati Abhiyan since its inception. We are doing awareness generation and mediation for work allocation to tribal people through MGNREGA. Along with building capacities Village Volunteers for extension of MGNREGA scheme to the tribal villages and to ensure access to all facilities and entitlements MGNREGA labourers get.
Regular implementation of MGNREGA in the non-agricultural seasons have resulted in checking distressed migration in several adivasi villages and also strengthen water conservation and irrigation support.
With years it has not only gained the ground but has also become a core strength of the organisation. Due to this enriched and experiential knowledge base, PA is seen as a resource organisation in all aspects of MGNREGA, from awareness to training and hand-holding to advocacy.
In 2013, after experiencing that the demand for work is low, even eight years after the MGNREGA act came into being, civil society organisations across the country launched 'Kaam Mango Abhiyan' to build awareness among people and encourage the administration to capture the demand. Pragati Abhiyan co-ordinated and led the campaign process in Maharashtra with active involvement of over 35 organisations in the state. The campaign reached out to people, explained them the significance of scheme and helped them to raise the demand for work.
With funding support from like-minded friends, Pragati Abhiyan implemented a novel idea – Swabhiman Rojgar Yojana to create water storage structures to mitigate impact of drought. The idea was to implement NREGA as it is meant to be with one important difference – it will be privately funded. This initiative, implemented for three years in four villages from Amlon block, was coordinated by Makarand Dixit, a friend and supporter of the organisation.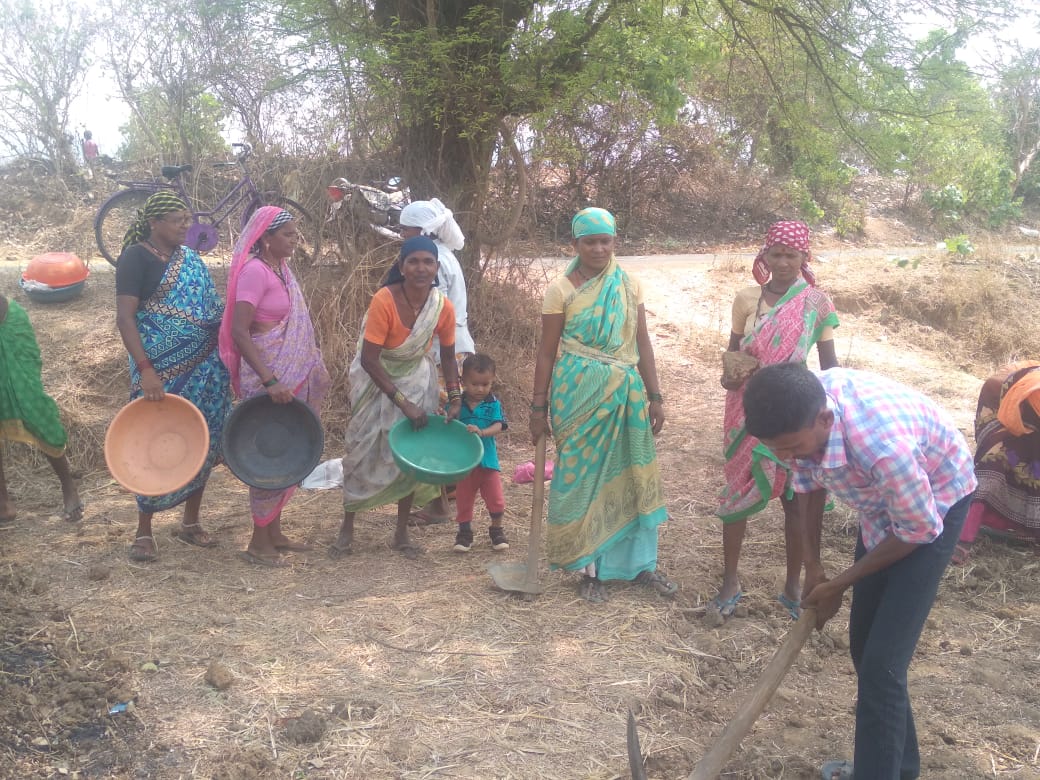 Women's Collective Leads The Way​
By CRP Shalu Kolhe, Morgoan Arjuni block, district Gondiya
After an intensive awareness drive in January 2021, 230 residents of Savartola village filed the demand for work for 100 days. Due to the pandemic situation people could not get work outside and all of them wanted work locally. But they were hesitant to meet Sarpanch to hand over the applications. Women workers decided to take lead.
Jotiram Looks Forward to Reaping the Benefits of the Farm Pond
By CRP Jeevan Rathod, Majalgoan, Beed
The Beed district in Maharashtra is known as the region of sugarcane workers. The yearly migration for months of over 6 lakh labourers to outside districts and states has given the drought-prone district this identity, which speaks in itself about the dismal state of local employment opportunities.