Motiram Bhangare, Age 42 years, Ghosali village, Pimpalwati Gram Panchayat, Peth block, Nashik district, Maharashtra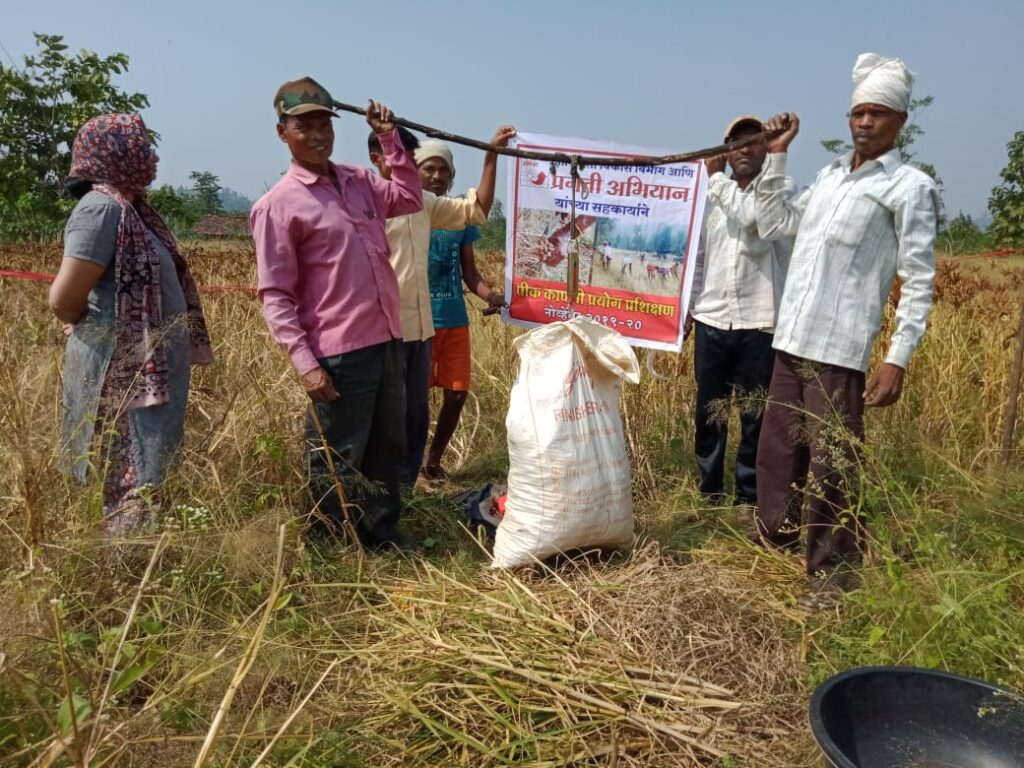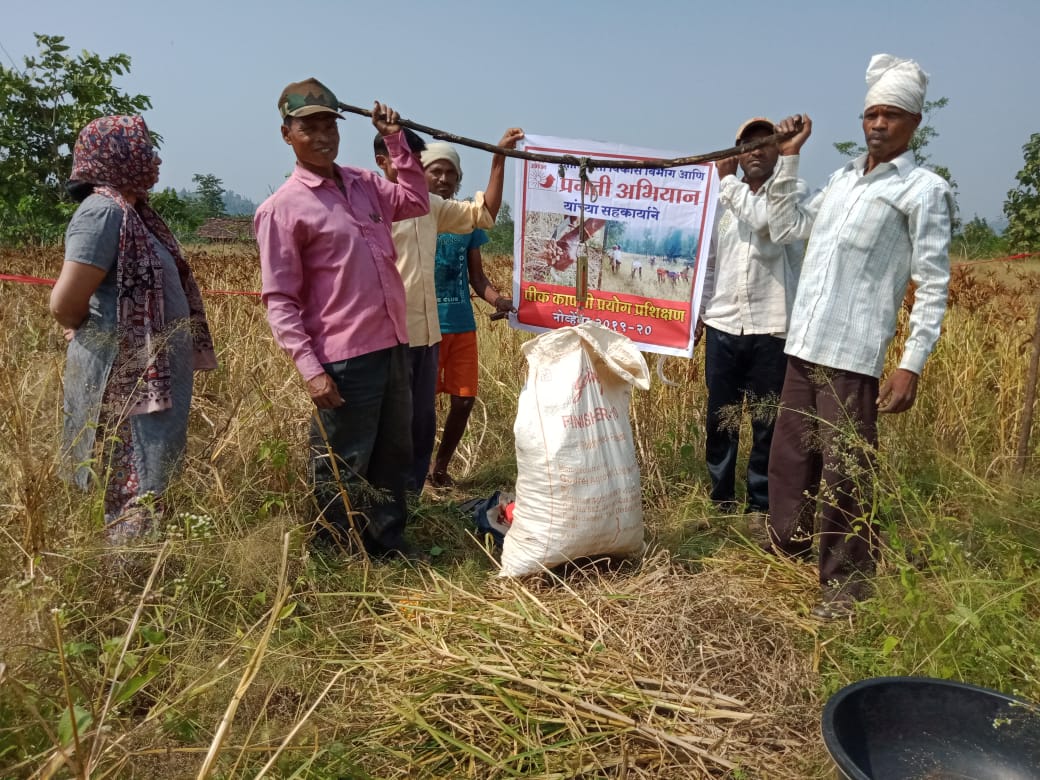 Call it by any name – Nagali, Nachani, Ragi, or Finger Millets – this coarse grain is integral to the tribal farming and food tradition. Nagali remains our constant, while the types and quantum of other crops may vary from year to year.
My family owns 2 acres of land that lies on the outskirts of the village and another 1.5 acres that lie in the forest area adjacent to the village. We have also planted a couple of mango and cashew trees on our farm. The land is non-irrigated and monsoon is the only cropping season in which we cultivate rice and some lentils along with Nagali.
With 4 quintals of Nagali and 8-10 quintals of rice, our annual income from farming was around INR 40,000. In the non-agricultural season, I used my masonry skills and earned another forty thousand. I and my wife worked on MGNREGA, which helped us to get an additional income by working locally. With this income, we could educate our two sons well.
Till three years ago we cultivated Nagali by traditional method. Over the years the production was going down and the yield barely sufficed our household consumption. Due to the limited stock, Nagali roti/bhakari was a staple diet was gradually replaced by rice and daal.
A solution to this problem came to us in 2018 through Pragati Abhiyan, a Nashik-based organisation working with rural communities. I was familiar with the organisation and had worked closely with them for awareness and effective implementation of MGNREGA in our village. Many families benefitted by getting work locally, most importantly, the compulsion for distress migration for a living was reduced drastically. This time Pragati Abhiyan proposed a new idea to adopt an improved organic cultivation method for Nagali. Shifting away from the traditional cultivation methods was not an attractive idea for most people in the villages. Since I was convinced that the organisation would not propose anything unless it is beneficial to us, I decided to be part it.
In the initial year, I was the only farmer in the village cultivating Nagali by a non-traditional Char Sutri method. I learned the steps and implemented them sincerely. Traditionally we use the broadcasting method, plant saplings when they are grown enough to survive on their own and leave the crop to grow on its own. In the newly adopted method, we treated the seeds with beejamrut (a homemade mix of cow urine and cattle dung) and developed a plant nursery. I used 20-21 days old saplings in the land already prepared for plantation, and placed them in a row by keeping enough distance (25-30 cm to be precise) between the saplings to give them space to grow. While I used the new method in one part of the land, I used the traditional method of seed broadcasting in the other part.
Within the first four days, a difference could be seen. While with the earlier method it took around 15 days for a plant to stand on its own, the nursery-grown saplings were standing firm within four days. Seeing the result my interest got enhanced. I started visiting the farm regularly and observing the growth process.
Within a month of the plantation, there was a visible difference in the two plots. With the traditional method, the growth of plants was less and uneven, as compared to taller, leafy and dispersed plants grown in the other area. Curious about this well-growing plant, farmers visited to see it, as they thought I have tried a different crop this time. I told them, 'No, I am not growing a different crop, I am just growing it differently.'
As it was told, I prepared Jeevamrut (homemade liquid organic fertiliser from local materials) and used it from time to time, which helped the plants to flourish. My wife and sons also helped me on the plantation and later in de-weeding from time to time. Since the plants are spaced out, the weeds grow faster and need to be removed often. Pragati Abhiyan taught me to use a cycle weeder, to do de-weeding efficiently. This simple-to-use machine reduced the drudgery as well. It felt nice to use a weeder and it could be used only because the plants were spaced out properly. For pest control, I sprayed neem oil (Azadirachta indica extract) diluted in water. Except for the neem oil, I did not have to buy anything from the market, the seeds and mixes were from home or locally available. Thus, the input cost is minimal.
After sixty days the crop was ready for harvesting. Not only did I produce more, but my production was also the highest among the farmers in the five blocks who were motivated by Pragati Abhiyan to use the improved method. Our per acre yield was 32 quintals, while it was only 2.25 quintals per acre with the traditional method.
I was convinced that you get good grain, both in terms of quality and quality. Therefore, I am using the same method since 2018. With seasonal changes, production can vary, but it is much more beneficial. My experience has motivated other farmers to adopt the new methods. I have supported 30-35 farmers in the village and almost 70% of the farmers are now cultivating Nagali with improved methods. With sizeable produce, we may think of selling it in the market. Right now we use it at home. We have enough stock of Nagali and it has now again become a part of our daily diet. I can also give it to anyone who wants it.
"Before I grew Nagali without any expectations. I thought it is better to have at least some yield instead of keeping the land unused. By broadcasting the seeds, I accepted whatever got produced. After adopting the new method I look at Nagali cultivation differently. If I am a little systematic in growing it, I benefit. Now, I am supporting other farmers to use the improved method, so together we would have enough surplus in the village." – Motiram Bhangare
By :  L.B. Jadhav